EXCLUSION MONOPROTEIN VET DIET
HYPOALLERGENIC
CAT PORK AND POTATO
Complete diet food with monoprotein recipe for cat with food intolerance
---
Exclusion Monoprotein Veterinary Diet Formula Hypoallergenic is a diet food with a monoprotein formulation, made with a single alternative animal protein source and other innovative ingredients, all preserved with natural tocopherols; it is the nutritional solution for veterinarian looking to provide specific nutritional support for cats with food intolerance.
CAT PORK AND POTATO
Characteristics: Exclusion Diet Hypoallergenic is a complete diet food formulated for adult cats to reduce intolerances to ingredients and nutritive substances. This complete diet food contains selected protein and carbohydrate sources.
Instructions: adult cats with food intolerance.
HYPOALLERGENIC
Nutritional support for cats with food intolerance
MONOPROTEIN FORMULA
Single animal protein source to minimize the risk of food intolerances and dehydrated ingredients for a greater supply of nutrients
1+1
Formulated with a single dehydrated animal protein source and single carbohydrate source
GRAIN FREE
Formulated without grains
EPA + DHA
Omega-3 fatty acids to modulate the inflammatory process favoring general wellbeing
MICROBIOME PLUS
FOS, MOS e GOS to promote intestinal health
CELL OXIDATIVE DEFENSE
ß-carotene, Vitamins E and C to protect cells from free radicals
NATURAL PRESERVATION
Natural antioxidants to preserve food from oxidative damage
Feeding instruction: it's recommended that a veterinarian's opinion be sought before use. Feed the correct daily amount shown below according to cat's size as the only food source.
Recommended use time: 3-8 weeks; if intolerance symptoms disappear, product can be used indefinitely.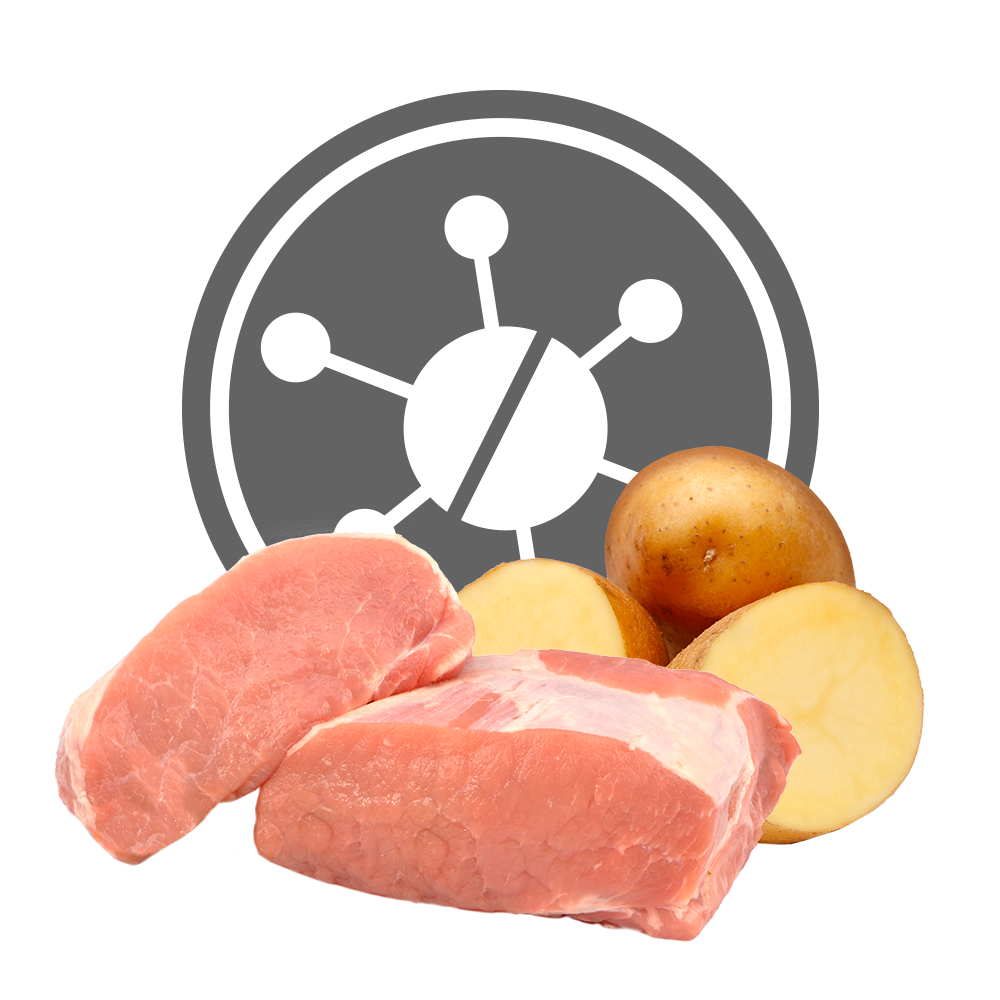 Ingredients & Nutrition
COMPOSITION
pork (90%), potato (2%), sunflower oil, borage, aloe vera, rosemary
ADDITIVI NUTRIZIONALI
Vit. A 3.312 U.I., Vit. D3 213 U.I., Vit. E 15 mg, Vit. C 48 mg, copper (II) sulphate pentahydrate (copper 0,12 mg), taurine 440 mg

No colorants or preservatives added.
ANALYTICAL COMPONENTS
7%

crude protein

6,5%

crude fats

2%

crude ash

1%

crude fibre

80%

moisture
Ratings & Reviews

Write a review
Recommended feeding chart