EXCLUSION MONOPROTEIN VET DIET
HYPOALLERGENIC
HORSE AND POTATO MEDIUM&LARGE BREED
Alimento completo dietetico con formulazione monoproteica animale per cani con intolleranza alimentare
---
Exclusion Monoprotein Veterinary Diet Formula Hypoallergenic è un alimento dietetico con formulazione monoproteica, realizzato con un'unica fonte alternativa di proteine animali, ingredienti innovativi e preservato con tocoferoli naturali; rappresenta la risposta nutrizionale a disposizione del Veterinario, differenziata per taglia, come supporto nutrizionale per cani con intolleranze alimentari.
HORSE AND POTATO MEDIUM&LARGE BREED
Caratteristiche: Exclusion Diet Hypoallergenic Horse and Potato Medium&Large Breed è un alimento completo dietetico per cani adulti formulato per la riduzione di intolleranze a ingredienti e a sostanze nutritive. Questo alimento completo dietetico possiede fonti selezionate di proteine e carboidrati.
Indicazioni: cani adulti con intolleranze alimentari.
HYPOALLERGENIC
Supporto nutrizionale per cani con intolleranze alimentari
MONOPROTEIN FORMULA
Una sola fonte proteica animale per ridurre al minimo il rischio di intolleranze alimentari e ingredienti disidratati per un maggior apporto di nutrienti
1+1
Formulato con un'unica fonte proteica animale e un'unica fornte di carboidrati
GRAIN FREE FORMULA
Formulato senza cereali
NATURAL BENEFIT
Aloe Vera, pianta officinale come supporto antinfiammatorio, grazie ai suoi principi attivi
DERMOPROTECTIVE SYSTEM
Semi di Lino ricco in acidi grassi essenziali per favorire una migliore condizione di cute e mantello
CELL OXIDATIVE DEFENSE
ß-carotene, Vitamine E e C, che proteggono le cellule dai radicali liberi
NATURAL PRESERVATION
Solo antiossidanti naturali per preservare l'alimento dal danno ossidativo
Istruzioni per l'uso: si raccomanda di richiedere il parere di un veterinario prima dell'uso. Somministrare i quantitativi indicati riportati in tabella in base al peso del cane, come unica fonte di cibo.
Periodo d'impiego raccomandato: 3-8 settimane; se i sintomi di intolleranza scompaiono il prodotto può essere usato indefinitamente.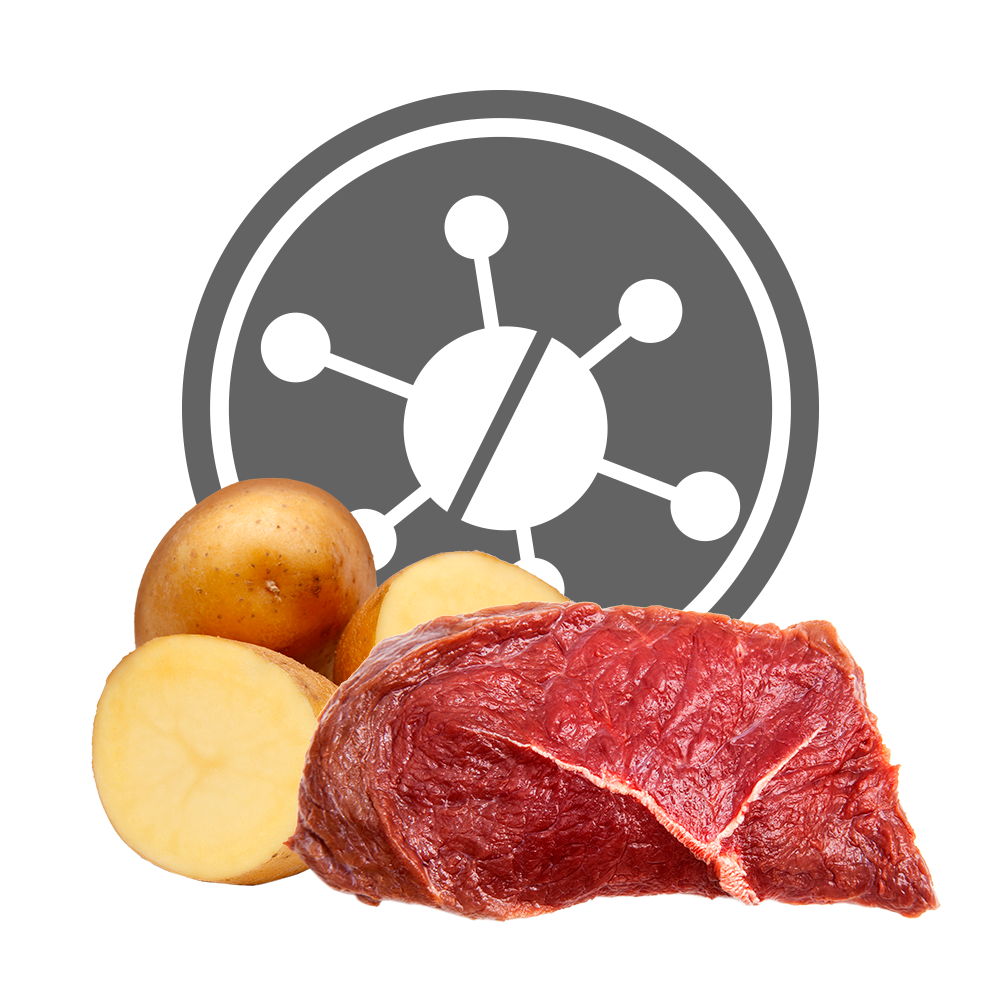 Ingredienti & Nutrizione
COMPOSIZIONE
patate (70%), cavallo disidratato (19%), olio di girasole, semi di lino (1%), cloruro di sodio, aloe vera (0,03%), rosmarino
ADDITIVI NUTRIZIONALI
Vit. A 15.000 U.I., Vit. D3 800 U.I., Vit. E 300 mg, Vit. C 30 mg, Vit. B1 15 mg, Vit. B2 18 mg, Vit. B3 60 mg, Vit. B6 10 mg, Vit. B12 0,2 mg, Vit. H 1,2 mg, beta carotene 5 mg, betaina 1.000 mg, ac. folico 3 mg, ossido di zinco (zinco 100 mg), carbonato ferroso (ferro 120 mg), ossido manganoso (manganese 50 mg), solfato rameico pentaidrato (rame 20 mg), ioduro di potassio (iodio 2 mg), selenito di sodio (selenio 0,4 mg), taurina 200 mg

Antiossidanti: estratti di tocoferoli da oli vegetali 60 mg.
COMPONENTI ANALITICI
22,5%

proteina grezza

11%

grassi grezzi

7,8%

ceneri grezze

2,3%

fibre grezze

8%

umidità

1,3%

calcio

1,1%

fosforo
Quantità giornaliera raccomandata

Recensioni

Scrivi una recensione