EXCLUSION MONOPROTEIN VET DIET
RENAL
PORK & SORGHUM AND RICE MEDIUM&LARGE BREED
Alimento completo dietetico con formulazione monoproteica animale per cani con insufficienza renale
---
Exclusion Monoprotein Veterinary Diet Formula Renal è un alimento dietetico con formulazione monoproteica, realizzato con un'unica fonte alternativa di proteine animali, ingredienti innovativi e preservato con tocoferoli naturali; rappresenta la risposta nutrizionale a disposizione del Veterinario, differenziata per taglia, come supporto nutrizionale della funzionalità renale in corso di insufficienza renale cronica o temporanea.
PORK & SORGHUM AND RICE MEDIUM&LARGE BREED
Caratteristiche: Exclusion Diet Renal Medium&Large Breed è un alimento completo dietetico formulato per il supporto della funzione renale in caso di insufficienza renale cronica o temporanea. Questo alimento dietetico contiene una bassa concentrazione di fosforo e un ridotto tenore di proteine di elevata qualità.
Indicazioni: cani adulti con insufficienza renale cronica o temporanea.
RENAL
Supporto nutrizionale della funzionalità renale in corso di insufficienza renale cronica o temporanea
MONOPROTEIN FORMULA
Una sola fonte proteica animale per ridurre al minimo il rischio di intolleranze alimentari e ingredienti disidratati per un maggior apporto di nutrienti
1+2
Formulato con un'unica fonte proteica animale disidratata e 2 fonti di carboidrati
LOW PROTEIN
Ridotto tenore proteico di alta qualità per alleviare il carico renale
OMEGA – 3
Acidi grassi Omega-3 per rallentare la progressione dell'insufficienza renale modulando l'infiammazione
FOS
Fruttoligosaccaridi per supportare la flora intestinale e ridurre l'urea
LOW PHOSPHOROUS AND SODIUM
Bassa concentrazione di fosforo e di sodio per supportare la funzionalità renale
NATURAL PRESERVATION
Solo antiossidanti naturali per preservare l'alimento dal danno ossidativo
Istruzioni per l'uso: si raccomanda di richiedere il parere di un veterinario prima dell'uso. Somministrare i quantitativi indicati riportati in tabella in base al peso del cane, come unica fonte di cibo. Lasciare sempre acqua fresca a disposizione.
Periodo d'impiego raccomandato: 2-4 settimane in caso di insufficienza renale temporanea; inizialmente fino a 6 mesi in caso di insufficienza renale cronica.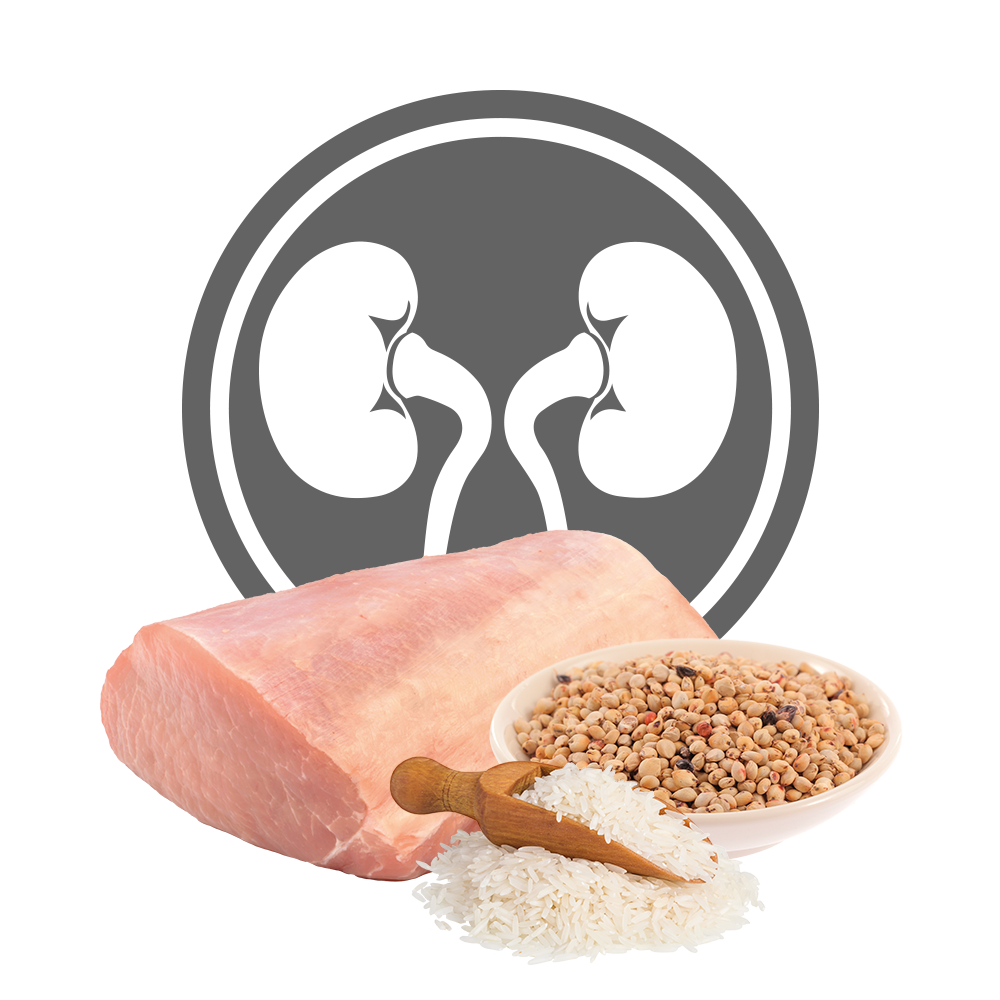 Ingredienti & Nutrizione
COMPOSIZIONE
sorgo (40%), riso (25%), grasso di maiale, maiale disidratato (8%), proteine di maiale idrolizzate, lignocellulosa, olio di salmone, olio di camelina, citrato di potassio (0,4%), fruttoligosaccaridi (0,2%), mannanoligosaccaridi, β-1,3/1,6 glucani da parete cellulare di lievito (Saccaromyces cerevisiae)
ADDITIVI NUTRIZIONALI
Vit. A 15.000 U.I., Vit. D3 900 U.I., Vit. E 300 mg, Vit. C 50 mg, Vit. B1 14 mg, Vit. B2 17 mg, Vit. B3 54 mg, Vit. B5 68 mg, Vit. B6 10 mg, Vit. B12 0,14 mg, Vit. H 1,2 mg, beta carotene 5 mg, betaina 1.400 mg, ac. folico 2,4 mg, ossido di zinco (zinco 128 mg), carbonato ferroso (ferro 98 mg), ossido manganoso (manganese 55 mg), solfato rameico pentaidrato (rame 20 mg), ioduro di potassio (iodio 3 mg), selenito di sodio (selenio 0,4 mg), L-carnitina 300 mg

Antiossidanti: estratti di tocoferoli da oli vegetali 90 mg.
COMPONENTI ANALITICI
14,5%

proteina grezza

18%

grassi grezzi

1,1%

acidi grassi omega-3

2,5%

ceneri grezze

3,8%

fibre grezze

8%

umidità

0,5%

calcio

0,3%

fosforo

0,5%

potassio

0,4%

sodio
Quantità giornaliera raccomandata

Recensioni

Scrivi una recensione