WILDFIELD
GRAIN FREE
ADULT COUNTRY PORK, RABBIT AND EGGS SMALL BREED
Alimento completo per cani adulti di piccola taglia
---
Dall'analisi delle abitudini originarie dei cani e dei loro antenati lupi e la loro attitudine a nutrirsi prevalentemente con carne Dorado ha elaborato Wildfield, una linea di alimenti completi e bilanciati con elevato contenuto di ingredienti animali disidratati, senza cereali, con frutta e verdura e senza conservanti di sintesi. Wildfield utilizza solo ingredienti animali disidratati, ottenuti dalla carne fresca attraverso uno specifico processo di cottura, che elimina circa l'80% di acqua. Ne risulta un prodotto concentrato
contenente una maggiore concentrazione di ingredienti a parità di peso indicato.
ADULT COUNTRY PORK, RABBIT AND EGGS SMALL BREED
INGREDIENTI ANIMALI DISIDRATATI
No carne fresca per una maggiore concentrazione proteica
PRESERVATO NATURALMENTE
No Bha e Bht
MINERALI CHELATI
Per favorire un loro migliore assorbimento
PREBIOTICI (FOS & MOS)
Oligosaccaridi ad azione benefica della microflora intestinale
PELO LUCENTE
Grazie all'olio di semi di lino
GLUCOSAMINA E CONDROITIN SOLFATO
Per stimolare la produzione cartilaginea e rallentarne la degradazione
CRUELTY FREE
Non testato sugli animali
Istruzioni per l'uso: servire secco sulla base delle indicazioni riportate in tabella, tenendo sempre acqua fresca a diposizione del cane.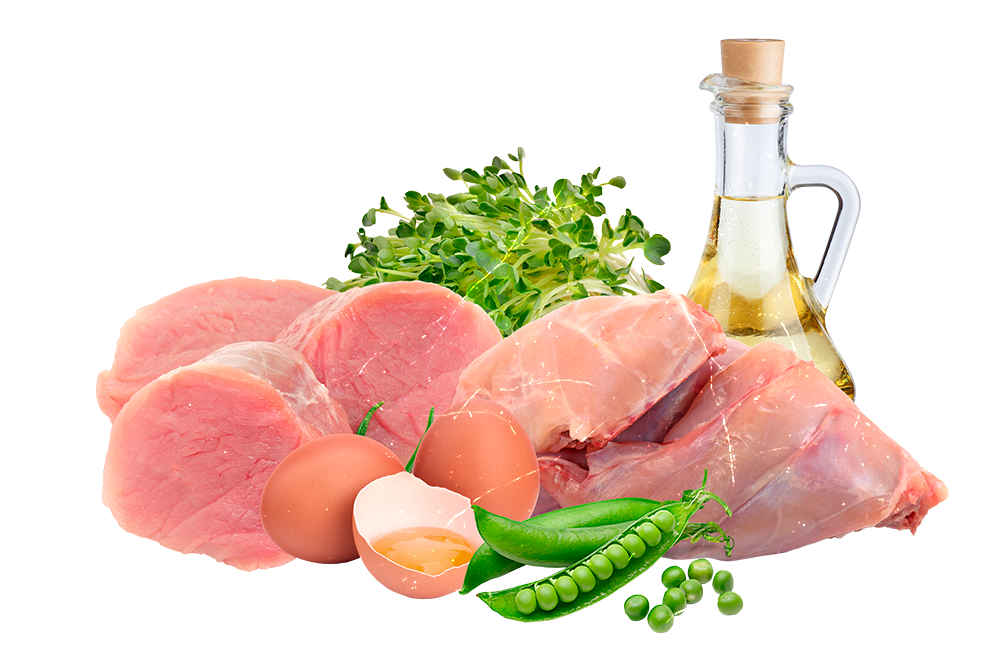 Ingredienti & Nutrizione
COMPOSIZIONE
maiale disidratato (37%), piselli disidrati, banana disidratata, grasso di pollo, coniglio disidratato (5%), proteine di pollo idrolizzate, erba medica disidratata, olio di salmone, aringa disidratata, uova intere disidratate (1%), lievito, polpa di cicoria essiccata, cloruro di sodio, carbonato di calcio, olio di semi di lino (0,4%), fruttoligosaccaridi (0,2%), mannanoligosaccaridi (0,2%), mela, melograno, zucca, the verde, spinaci, finocchio, borragine, camomilla, liquerizia, pomodoro, rosa canina, salvia officinale, menta piperita, glucosamina (0,04%), lampone rosso, more, yucca schidigera, solfato di condroitina (0,01%)
ADDITIVI NUTRIZIONALI
Vit. A 10.800 U.I., Vit. D3 520 U.I., Vit. E 500 mg, Vit. C 55 mg, Vit. B1 9 mg, Vit. B2 5 mg, Vit. B3 21 mg, Vit. B6 9 mg, Vit. B12 0,2 mg, Vit. H 1,6 mg, ac. folico 1,6 mg, colina cloruro 2.200 mg, solfato rameico pentaidrato (rame 11,6 mg), chelato di rame di aminoacidi idrato (rame 5 mg), ossido di zinco (zinco 110 mg), chelato di zinco di aminoacidi idrato (zinco 47,5 mg), ossido manganoso (manganese 26,5 mg), chelato di manganese di aminoacidi idrato (manganese 11,3 mg), selenito di sodio (selenio 0,28 mg), ioduro di potassio (iodio 3,4 mg), carbonato ferroso (ferro 180 mg)

Conservato con tocoferoli naturali.
COMPONENTI ANALITICI
36%

proteina grezza

17%

grassi grezzi

6%

ceneri grezze

3,6%

fibre grezze

8%

umidità

1,6%

calcio

1,35%

fosforo
Quantità giornaliera raccomandata

Recensioni

Scrivi una recensione