WILDFIELD
GRAIN FREE
CAT ADULT FARM CHICKEN, DUCK AND EGGS
Alimento completo per gatti e gattini
---
Dall'analisi delle abitudini alimentari originarie dei gatti e la loro attitudine a nutrirsi prevalentemente con carne, Dorado ha formulato Wildfield, una linea di alimenti completi e bilanciati con elevato apporto di ingredienti animali disidratati, grain free, gluten free e preservato solo con antiossidanti naturali. Wildfield utilizza solo ingredienti animali disidratati, ottenuti dalla carne fresca attraverso uno specifico processo di cottura, che elimina circa l'80% di acqua realizzando un prodotto con una concentrazione proteica di circa 5 volte superiore rispetto alla carne fresca a parità di peso indicato.
CAT ADULT FARM CHICKEN, DUCK AND EGGS
INGREDIENTI ANIMALI DISIDRATATI
No carne fresca per una maggiore concentrazione proteica
PRESERVATO NATURALMENTE
No Bha e Bht
MINERALI CHELATI
Per favorire un loro migliore assorbimento
PREBIOTICI (FOS & MOS)
Oligosaccaridi ad azione benefica della microflora intestinale
PELO LUCENTE
Grazie all'olio di salmone
HAIRBALL CONTROL SYSTEM
Sistema controllo boli di pelo
CRUELTY FREE
Non testato sugli animali
Istruzioni per l'uso: servire secco sulla base delle indicazioni riportate in tabella, tenendo sempre acqua fresca a diposizione del cane.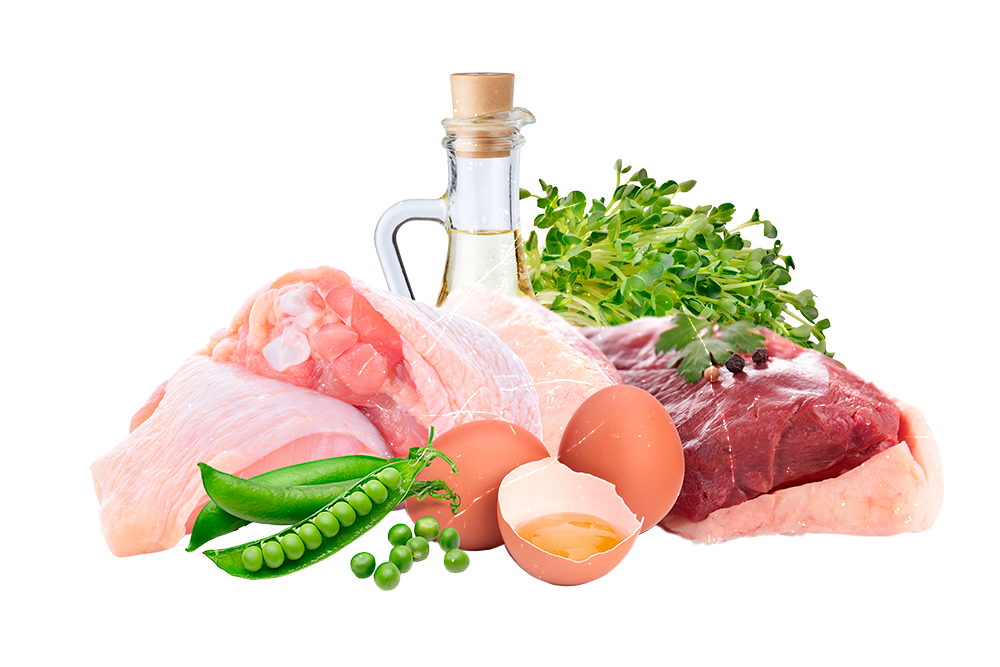 Ingredienti & Nutrizione
COMPOSIZIONE
pollo disidratato (40%), aringa disidratata, grasso di pollo, piselli disidrati, banana disidratata, lievito, proteine di pollo idrolizzate, anatra disidratata (3%), olio di salmone (2,5%), uova intere disidratate (2%), polpa di cicoria essiccata, erba medica disidratata, tegumento e semi di psyllium, cloruro di sodio, fosfato monosodico, fruttoligosaccaridi (0,3%), mannanoligosaccaridi (0,25%), mela, melograno, zucca, the verde, spinaci, finocchio, borragine, camomilla, liquerizia, pomodoro, rosa canina, salvia officinale, menta piperita, lampone rosso, more
ADDITIVI NUTRIZIONALI
Vit. A 16.800 U.I., Vit. D3 600 U.I., Vit. E 480 mg, Vit. C 200 mg, biotina 0,07 mg, betaina 1.900 mg, chelato di rame di aminoacidi idrato (rame 4 mg), chelato di zinco di aminoacidi idrato (zinco 40 mg), chelato di manganese di aminoacidi idrato (manganese 4 mg), selenito di sodio (selenio 0,08 mg), ioduro di potassio (iodio 1,2 mg), carbonato ferroso (ferro 64 mg), taurina 1.000 mg

Conservato con tocoferoli naturali.
COMPONENTI ANALITICI
42%

proteina grezza

20%

grassi grezzi

9%

ceneri grezze

3%

fibre grezze

8%

umidità

1,3%

calcio

1,1%

fosforo
Quantità giornaliera raccomandata

Recensioni

Scrivi una recensione