EXCLUSION MONOPROTEIN VET DIET
HYPOALLERGENIC
PORK AND PEA PUPPY ALL BREEDS
Complete diet food with animal monoprotein recipe for puppies with food intolerance
---
Exclusion Monoprotein Veterinary Diet Formula Hypoallergenic is a diet food with a monoprotein formulation, made with a single alternative animal protein source and other innovative ingredients, all preserved with natural tocopherols. Available for different sizes, it is a nutritional solution for veterinarians looking to provide nutritional support for dog with food intolerance.
PORK AND PEA PUPPY ALL BREEDS
Characteristics: Exclusion Diet Hypoallergenic Pork and Pea All Breeds is a complete diet food formulated for puppies to reduce intolerances to ingredients and nutritive substances. This complete diet food contains selected protein and carbohydrate sources.
Instructions: puppies with food intolerance.
HYPOALLERGENIC
Nutritional support for dogs with food intolerance
MONOPROTEIN FORMULA
Single animal protein source to minimize the risk of food intolerances and dehydrated ingredients for a greater supply of nutrients
1+1
Formulated with a single dehydrated animal protein source and single carbohydrate source
GRAIN FREE FORMULA
Formulated without grains
NATURAL BENEFIT
Aloe Vera, officinal plant as an anti- inflammatory support, thanks to its active ingredients
DERMOPROTECTIVE SYSTEM
Flax seed rich in essential fatty acids to promote a better condition of skin and coat
CELL OXIDATIVE DEFENSE
ß-carotene, Vitamins E and C, which protect cells from free radicals
NATURAL PRESERVATION
Only natural antioxidants to preserve food from oxidative damage
Feeding instruction: it's recommended that a veterinarian's opinion be sought before use. Feed the correct daily amount shown below according to dog's size as the only food source.
Recommended use time: 3-8 weeks; if intolerance symptoms disappear, product can be used until the end of growing.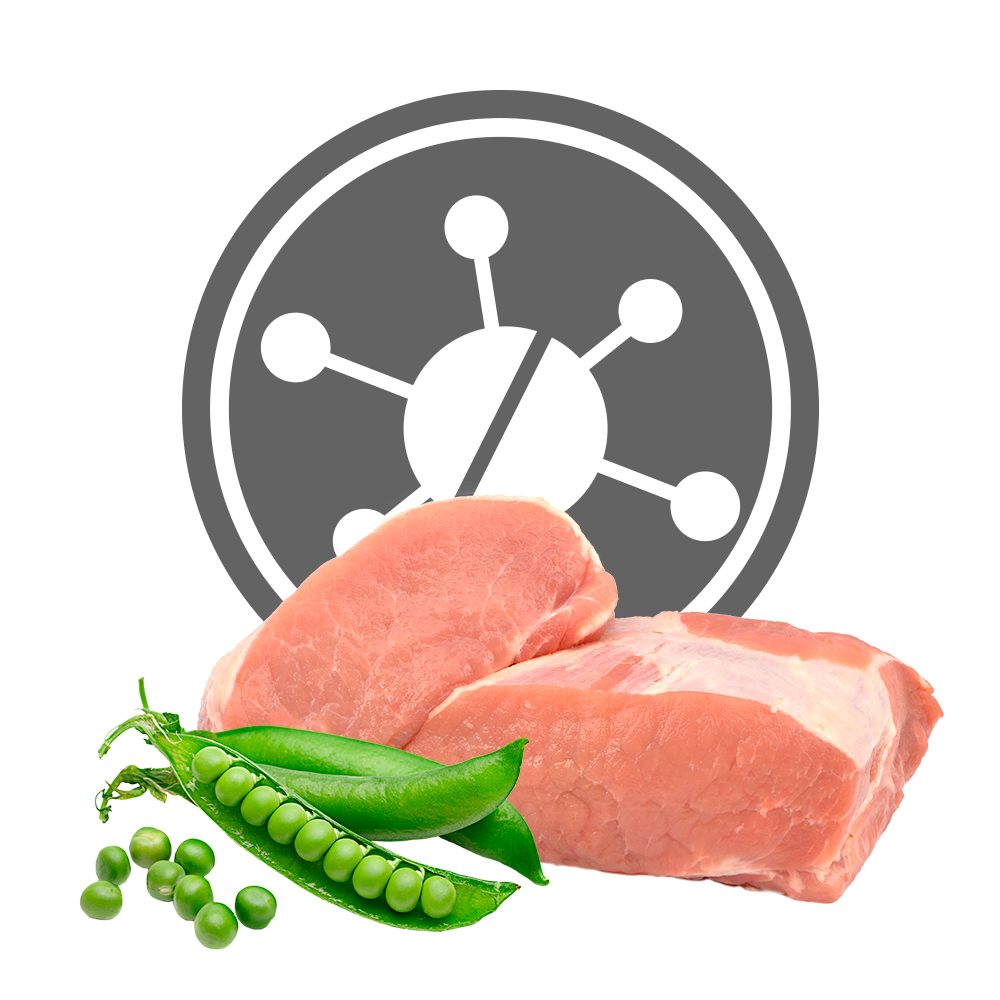 Ingredients & Nutrition
COMPOSITION
pea (55%), dehydrated pork (25%), sunflower oil, hydrolyzed pork protein, flax seeds (1%), sodium chloride, fructo-oligosaccharides, glucosamine, aloe vera (0,04%), chondroitin sulphate, rosemary
ADDITIVI NUTRIZIONALI
Vit. A 18.000 U.I., Vit. D3 950 U.I., Vit. E 360 mg, Vit. C 36 mg, Vit. B1 18 mg, Vit. B2 21 mg, Vit. B3 72 mg, Vit. B6 12 mg, Vit. B12 0,2 mg, Vit. H 1,4 mg, β-carotene 6 mg, betaine 1.200 mg, folic acid 3,6 mg, zinc oxide (zinc 120 mg), ferrous carbonate (iron 144 mg), manganous oxide (manganese 60 mg), cupric sulphate pentahydrate (copper 24 mg), potassium iodide (iodine 2,4 mg), sodium selenite (selenium 0,5 mg), taurine 240 mg

Antioxidants: tocopherol extracts from vegetable oils 80 mg.
ANALYTICAL COMPONENTS
28%

crude protein

16%

crude fats

4.5%

crude ash

2,5%

crude fibres

8%

moisture

1,1%

calcium

0,9%

phosphorus
Ratings & Reviews

Write a review
Recommended feeding chart