EXCLUSION MONOPROTEIN VET DIET
URINARY
PORK & SORGHUM AND RICE MEDIUM&LARGE BREED
Complete dietary food with animal monoprotein recipe for dogs with struvite stones
---
Exclusion Monoprotein Veterinary Diet Formula Urinary is a diet food with a monoprotein formulation, made with a single alternative animal protein source and other innovative ingredients, all preserved with natural tocopherols. Available for different sizes, it is a nutritional solution for veterinarians looking to provide nutritional support for the dissolution and reduction of recurrences of struvite kidney stones.
PORK & SORGHUM AND RICE MEDIUM&LARGE BREED
Characteristics: Exclusion Diet Urinary Medium&Large Breed is a complete diet food for adult dogs specially formulated for dissolving struvite-based kidney stones and for reducing their recurrence. This dietary food has urine acidifying properties, a low concentration of magnesium and a reduced high quality protein content.
Instructions: helps dissolve struvite-based stones and reduce their recurrence.
URINARY
Nutritional support for the dissolution and reduction of recurrences of struvite kidney stones
MONOPROTEIN FORMULA
Single animal protein source to minimize the risk of food intolerances and dehydrated ingredients for a greater supply of nutrients
1+2
Formulated with a single dehydrated animal protein source and 2 carbohydrate sources
LOW pH
Acidification of urinary pH for the dissolution and reduction of recurrences of struvite kidney stones
LOW MAGNESIUM
Low magnesium concentration to reduce the formation of struvite kidney stones
URINE DILUTION
Dilution of urine to reduce the risk of formation of struvite kidney stones
FOS
Fructooligosaccharides to support intestinal flora and reduce urea
NATURAL PRESERVATION
Only natural antioxidants to preserve food from oxidative damage
Feeding instruction: it's recommended that a veterinarian's opinion be sought before use. Feed the correct daily amount shown below according to dog's size as the only food source. Always leave fresh water available.
Recommended use time: 5-12 weeks for dissolving struvite stones; up to 6 months for the reduction of their recurrence.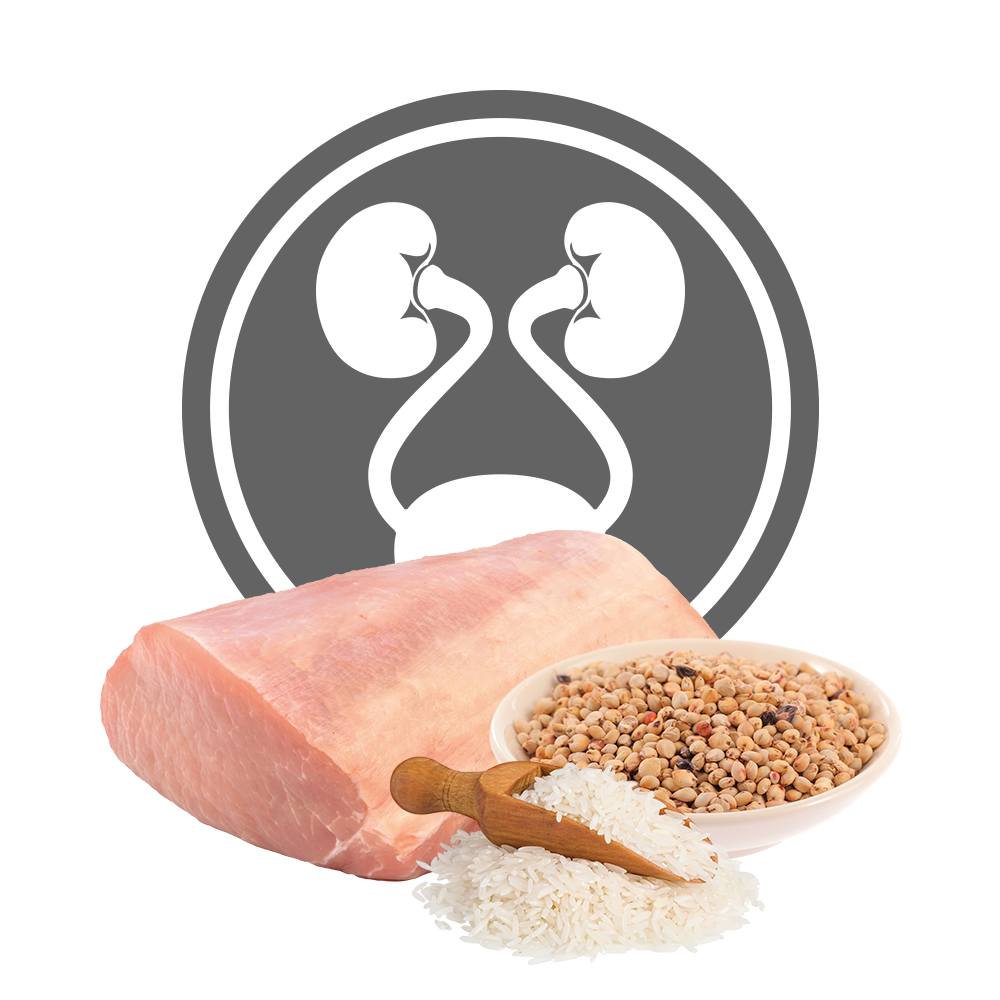 Ingredients & Nutrition
COMPOSITION
sorghum (40%), rice (25%), dehydrated pork (12%), pork fat, hydrolyzed pork protein, wood substances, camelina oil, yest, sodium chloride, calcium sulphate dihydrate (0,5%), fructo-oligosaccharides (0,2%), mannan-oligosaccharides, β-1,3/1,6 glucans from baker's yeast (Saccaromyces cerevisiae)
ADDITIVI NUTRIZIONALI
Vit. A 15.000 U.I., Vit. D3 900 U.I., Vit. E 300 mg, Vit. C 50 mg, Vit. B1 14 mg, Vit. B2 17 mg, Vit. B3 54 mg, Vit. B5 68 mg, Vit. B6 10 mg, Vit. B12 0,14 mg, Vit. H 1,2 mg, β-carotene 5 mg, betaine 1.400 mg, folic acid 3 mg, zinc oxide (zinc 128 mg), ferrous carbonate (iron 98 mg), manganous oxide (manganese 55 mg), cupric sulphate pentahydrate (copper 20 mg), potassium iodide (iodine 3 mg), sodium selenite (selenium 0,4 mg)

Antioxidants: tocopherol extracts from vegetable oils 70 mg.
ANALYTICAL COMPONENTS
18%

crude protein

15%

crude fats

0,9%

omega-3 fatty acids

3,7%

crude ash

4%

crude fibres

8%

moisture

0,6%

calcium

0,4%

phosphorus

0,7%

sodium

0,05%

magnesium

0,6%

potassium

0,9%

chlorides

0,3%

sulphur
Ratings & Reviews

Write a review
Recommended feeding chart