AllRE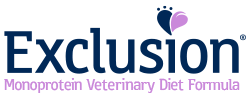 RENAL
Exclusion Monoprotein Veterinary Diet Formula Renal is a diet food with a monoprotein formulation, made with a single alternative animal protein source and other innovative ingredients, all preserved with natural tocopherols. Available for different sizes, it is a nutritional solution for veterinarians looking to provide nutritional support for renal function in cases of chronic or episodic renal insufficiency.
RENAL
Nutritional support of renal function during or temporary renal insufficiency
MONOPROTEIN FORMULA
Single animal protein source to minimize the risk of food intolerances and dehydrated ingredients for a greater supply of nutrients
1+2
Formulated with a single dehydrated animal protein source and 2 carbohydrate sources
LOW PROTEIN
High-quality low protein content to relieve renal load
OMEGA – 3
Omega-3 fatty acids to slow down the progression of renal insufficiency by modulating inflammation
FOS
Fructooligosaccharides to support intestinal flora and reduce urea
LOW PHOSPHOROUS AND SODIUM
Low concentration of phosphorus and sodium to support kidney function
NATURAL PRESERVATION
Only natural antioxidants to preserve food from oxidative damage
Feeding instruction: it's recommended that a veterinarian's opinion be sought before use. Feed the correct daily amount shown below according to dog's size as the only food source. Always leave fresh water available.
Recommended use time: 2-4 weeks in case of temporary renal insufficiency; initially up to 6 months in cases of chronic renal insufficiency.