EXCLUSION MONOPROTEIN VET DIET
INTESTINAL
CAT PORK AND RICE
Complete diet food with monoprotein recipe for cat with gastro-intestinal inflammatory disease, maldigestion and malabsorption
---
Exclusion Monoprotein Veterinary Diet Formula Intestinal is a diet food with a monoprotein formulation, made with a single alternative animal protein source and other innovative ingredients, all preserved with natural tocopherols; it is the nutritional solution for veterinarian looking to provide specific nutritional support for cats with maldigestion and malabsorption.
CAT PORK AND RICE
Characteristics: Exclusion Diet Intestinal is a complete dietetic food formulated for the reduction of acute intestinal absorptive disorder and for compensation for maldigestion. This complete dietetic food has an increased level of electrolytes, highly digestible ingredients and a low level of fat.
Instructions: adult cats with inflammatory gastro-intestinal disease, maldigestion and malabsorption.
INTESTINAL
Nutritional support for cats with gastrointestinal disease, maldigestion and malabsorption
MONOPROTEIN FORMULA
Single animal protein source to minimize the risk of food intolerances and dehydrated ingredients for a greater supply of nutrients
1+1
Formulated with a single dehydrated animal protein source and single carbohydrate source
CELL OXIDATIVE DEFENSE
ß-carotene, Vitamins E and C to protect cells from free radicals
FIBRE MIX
Balanced blend of soluble and insoluble fibre, which rebalances intestinal transit, holding back excess water
MICROBIOME PLUS
FOS, MOS e GOS to promote intestinal health
EPA + DHA
Omega-3 fatty acids to modulate the inflammatory process favoring general wellbeing
NATURAL PRESERVATION
Natural antioxidants to preserve food from oxidative damage
Feeding instruction: it's recommended that a veterinarian's opinion be sought before use. Feed the correct daily amount shown below according to cat's size as the only food source.
Recommended use time: 1-2 weeks during periods of recovery from acute diarrhea until resolved; 3-12 weeks for compensation of maldigestion, but lifetime in the case of chronic pancreatic insufficiency.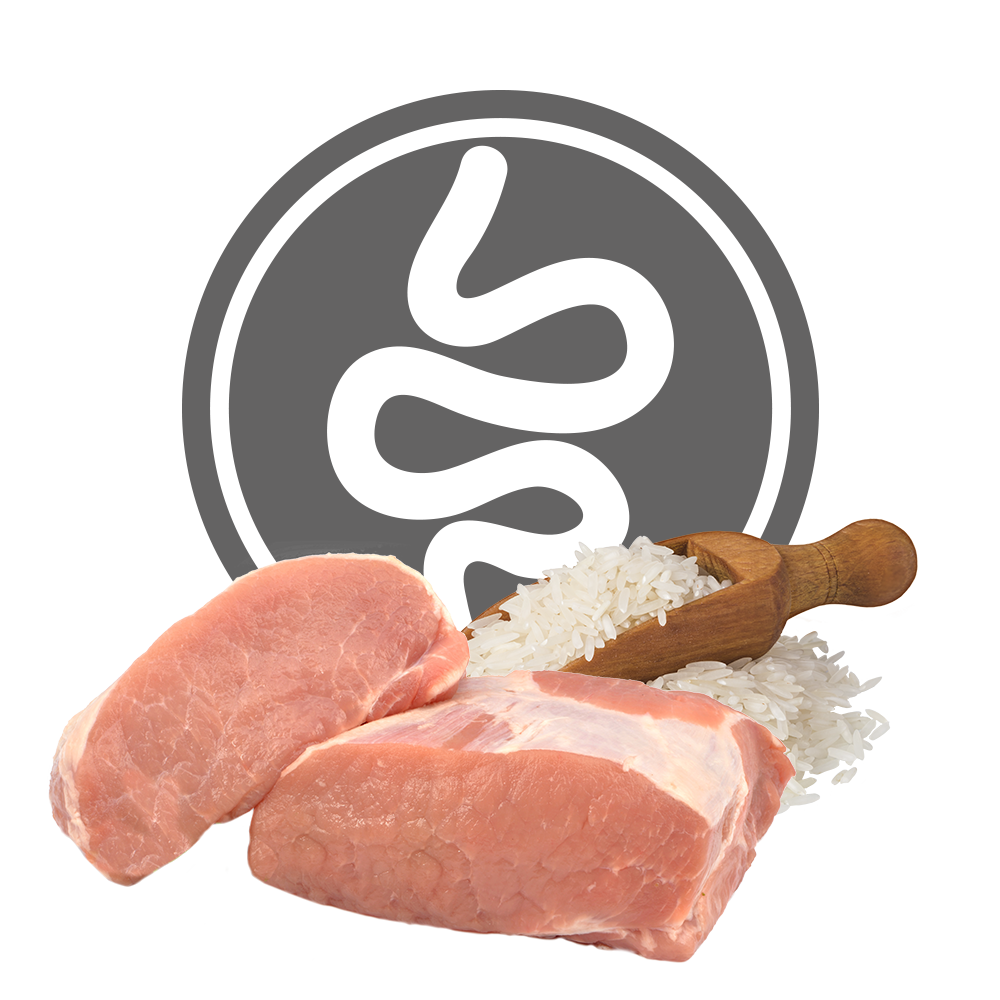 Ingredients & Nutrition
COMPOSITION
pork (90%), rice (3%), dried chicory pulp, potassium chloride, sodium chloride, mannan-oligosaccharides, fructo-oligosaccharides, borage, β-1,3/1,6 glucans from baker's yeast Saccaromyces cerevisiae
ADDITIVI NUTRIZIONALI
Vit. A 1.720 U.I., Vit. D3 104 U.I., Vit. E 52 mg, Vit. C 4,6 mg, zinc oxide (zinc 16 mg), iron(II) carbonate (siderite) (iron 20 mg), manganese (II) oxid (manganese 7 mg), copper (II) sulphate pentahydrate (copper 8 mg), potassium iodide (iodine 0,4 mg), sodium selenite (selenium 0,09 mg), taurine 440 mg

No colorants or preservatives added.
ANALYTICAL COMPONENTS
8%

crude protein

4%

crude fats

1,5%

crude ash

1,5%

crude fibre

80%

moisture

0,26%

potassium

0,1%

sodium
Ratings & Reviews

Write a review
Recommended feeding chart